Featured Products
---
ChatOne - Social Networking PHP Script
ChatOne - Social Networking PHP Script
By : CSode Published on Thursday, November 02, 2017,07:04:50 in PHP Scripts
---
---
One night I had a dream that would happen if twitter and whatsapp were merged

ChatOne is a PHP Social Network Script, ChatOne is the best way to start your own social network website ! ChatOne is fast, secured, and it will be regularly updated.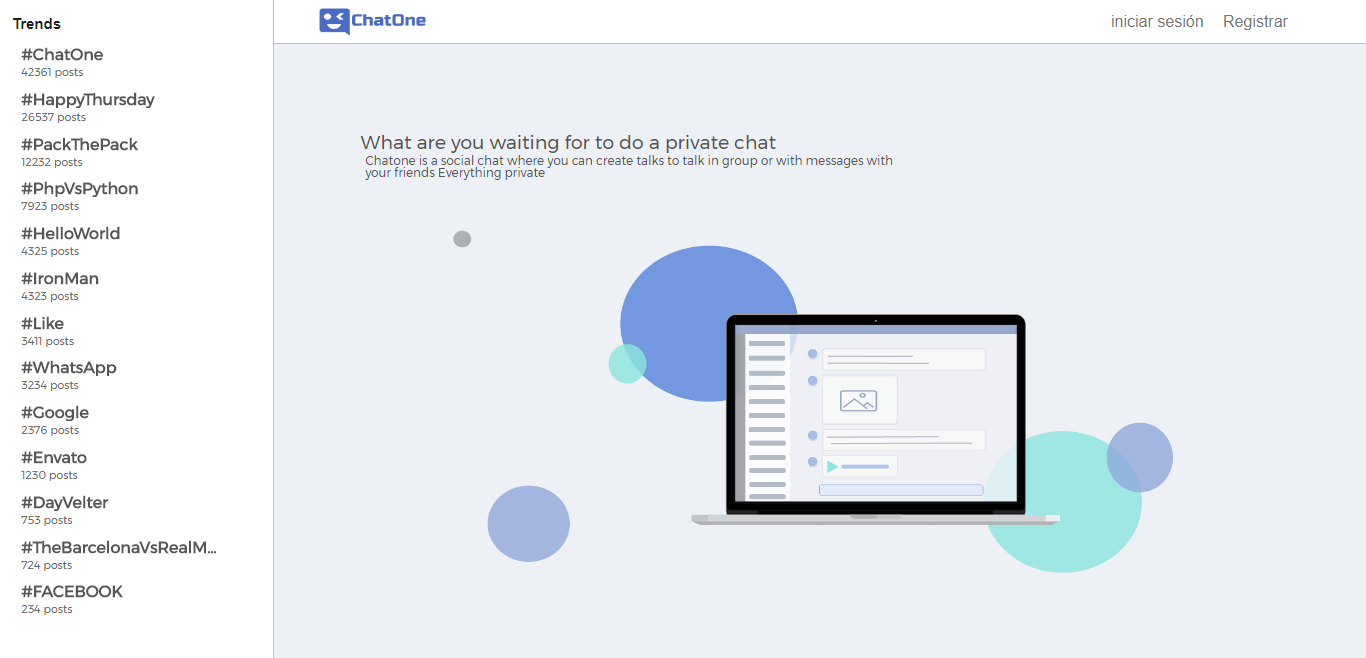 -ChatOne is a room style chat where you can upload images to watch YouTube video, and more without leaving the site -If you do not like talking in a group, you can do it in private messages -It also notifies you if you have pending messages to read from your friends -and much more
Version 1.3Â - 18/10/2017

-the error of the broken profile images of the users is solved
-fixes the bug with the passwords when changing to a new bloquiava
 the user's account
-it is now 100% responsive for user use
-added a function to read the language files
-is solved captcha error that does not let chat load
-in total 29 errors were fixed

Version 1.2Â - 25/09/2017
-Fixed the admin interface was improved Css
-Fixed a bug with the languages to select a language
-added the Shareplus.js plugin made for ChatOne only
-added three Italian, French and Turkish languages 

Version 1.1 – 11/09/2017
-Fixed chatroom div with load time
-Fixed div of the chat room now fit 8 instead of 7 for bulldozers
-Added a search engine for emojis and 100 new emojis
-Added gifs using "Giphy" API for messages.

Version 1.0Â - 24/08/2017
-Initial release

ChatOne system description:
Admin panel that allows multiple aminitradires

Support for external images to the site and links to Youtube

#Hashtags Displays trending and related topics shared by users

Friends and followers system

User profiles in modal

Reports Report posts to be checked by administrators.

Live Chatroom Real-time live chat system

Upload images and support broken images

Favorite system for chats

Messages Send and receive private messages

Content search engine

Home/News Feed Content

responsive to tablets and laptops, browsers (except internet explorer).

Languages English,Spanish

Admin Dashboard Full statics with charts analyzing the site information.

Site settings Update site settings like name,title,keywords.. etc ..

Advertisement Display ads on your websites.

Manage reports View published chats, edit delete them.

Manage Users View, edit, reset password, delete users.

reCaptcha Add, edit your reCaptcha key.
and so much more…
PHP 5.0 or Higher (PHP 7 recommended)
Mysqli extension
Mysql 4x or Higher.
This product has full support 24 hours a day, 7 days a week and apart from the admin panel you have a field for errors and problems with the system
Share This Product
Possibly related products