Featured Products
---
Instagram Feed jQuery Plugin - InstaShow
Instagram Feed jQuery Plugin - InstaShow
By : Elfsight Published on Saturday, October 24, 2015,23:56:18 in JavaScript Scripts
---
---


New high-quality version of the premium Instagram jQuery Feed allows creating marvelous grids of Instagram photos and sharing them in gorgeous galleries. Unleash the full power of an outstanding tool for displaying images from any public profile or any possible hashtag. The jQuery version of InstaShow contains vast opportunities of customization so that you will be able to set the required parameters depending on a website's purpose. 50+ adjustable elements, 10 color schemes and 16 languages will help you to create an amazing look for Instagram images. Manage the retina ready and user-friendly Instagram jQuery Feed to attract your website's audience in a flash! InstaShow – Share The Best with Everyone!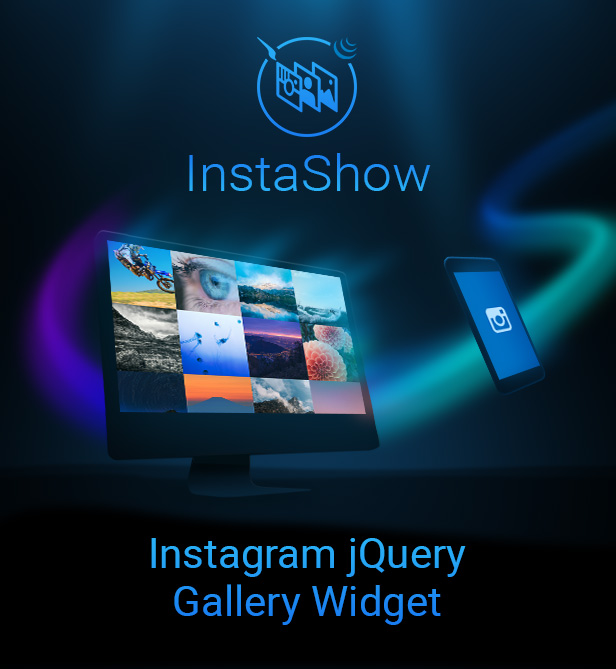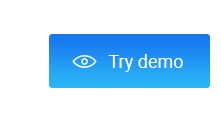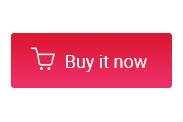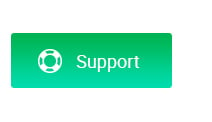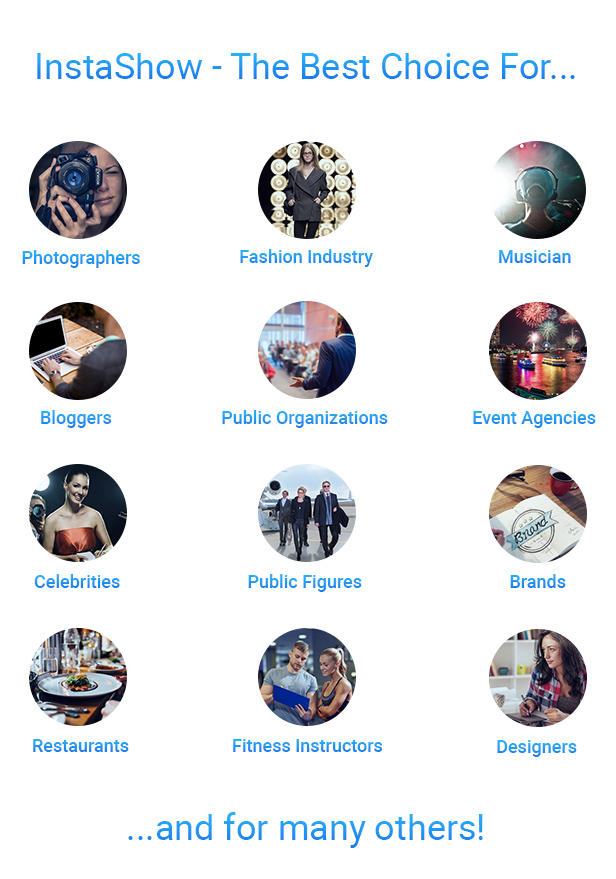 Â



What our customers say about InstaShow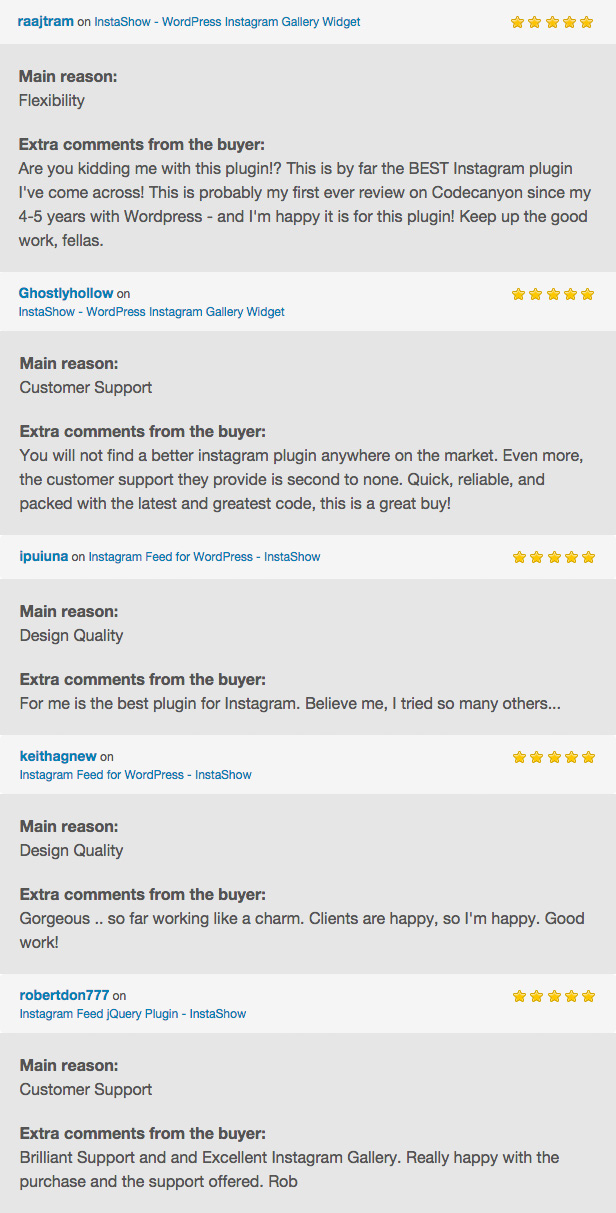 InstaShow Features
We aim at the production of high-quality and user-friendly products for our customers. That's why we strive to allow you to use full potential of a product. For InstaShow we've prepared more than 50 adjustable parameters so that you can easily adapt the jQuery Instagram Feed to your website.
Source
The number of sources is restricted only by your desires
Add any combination of usernames, hashtags and specific Instagram photos
Use additional conditions to filter Instagram photos
Exclude specific photos or photos which contain the specified hashtags or which refers to the certain authors with "except" filter
Filter photos by @username, #hashtag or specific photo with "only" filter
Specify required number of loaded images to restrict their count with "limit" option
Define how long the photos will be cached in browsers' local storage with "cacheMediaTime" option
Sizes
Adjust width and height of Instagram jQuery Feed on website
Make the widget responsive to adjust it to any screen
Set the number of columns and rows in the grid
Choose the appropriate gutter between photos
Specify the responsive breakpoints to set the columns, rows and gutter in the grid depending on a window width
User Interface
3 different navigation controls of the gallery: arrows, scroll, drag
Choose in which way the photos are scrolled: page by page or in free mode
Display or hide scrollbar indicator
Each UI element is Retina ready
2 variants of scrolling direction: horizontal or vertical
Automatic image scrolling with autorotation mode
Pause on hover in autorotation mode
2 animation effects of image scrolling: slide or fade
Adjustable animation speed
Choose animation easing of slide switching
Adjustable image scroll speed in popup
Choose animation easing of image scrolling in popup
16 languages support (de, en, es, fr, it, nl, no, pl, pt-BR, sv, tr, ru, hi, ko, zh-HK, ja)
Gallery Info
Display of hide each UI element in the gallery:
Likes counter
Comments counter
Description
Popup Info
Display of hide each UI element in the popup:
Username
Instagram link
Likes counter
Comments counter
Location
Passed time
Description
Comments
Style
10 Predefined Color Schemes
Adjustable color of 24 UI elements
Installation
Set the parameters as you wish with the code generator
Easy installation on any website
Support
Detailed documentation
Always-ready support 24/7 via comments on CodeCanyon product page, email info@elfsight.com and Skype support.elfsight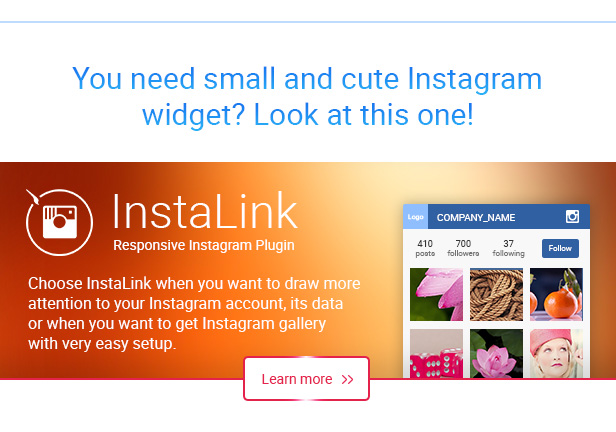 Support, Questions and Offers
Our support team is ready to answer on any kind of questions.
Do not hesitate to ask – we will figure out how to help you!
Email: info@elfsight.com
Skype: support.elfsight
 Change Log – new version 1.4.3 is available for download
November 26, 2015 – Version 1.4.3
### Fixed
 * Responsive options sorting breakpoints bug
 * Internationalization, descriptions and comments special characters bug
November 22, 2015 – Version 1.4.2
### Fixed
 * Empty comments array in response from Instagram API bug

### Changed
 * Option responsive allows url encoded string
November 21, 2015 – Version 1.4.1
### Fixed
 * Option source specific media shortcode extended characters

### Changed
 * Default value of cacheMediaTime option is decreased to 0
November 20, 2015 – Version 1.4.0
### Fixed
 * Multiple sources images duplication bug

### Changed
 * clientId is deprecated. Use accessToken instead.

### Added
 * Images count limit option
 * Responsive breakpoints option
 * Images loading optimization
More info about client id deprecation
October 29, 2015 – Version 1.3.0
### Fixed
 * Album-oriented images deformation bug
 * Over last view translation moving backward bug
 * Images with different sizes don't fit in popup bug
 * Gallery transitions glitches

### Changed
 * Gallery layout markup

### Added
 * Access Token support
 * Set specific image as source or filter
 * URL as source or filter support
 * Gallery info dynamic resize
 * Packaged edition (dependencies free)
October 15, 2015 – Version 1.2.0
### Fixed
 * Popup animation shaking
 * @username and #hashtags links in description and comments

### Added
 * Non-square images support
 * Popup deep linking
 * Popup video icon
 * Media list cache expiry time option
More info about non square photos
October 04, 2015 – Version 1.1.0
### Fixed
 * Fade translation animation bug
 * Touchend popup initiation bug

### Changed
 * Popup close control for mobile devices

### Added
 * Analytics
 * colorPopupMobileControlsBg option

Share This Product
Possibly related products