Featured Products
---
OFFPoster : Facebook Offer Poster (Image, Carousel & Video)
OFFPoster : Facebook Offer Poster (Image, Carousel & Video)
By : xeroneitbd Published on Thursday, November 09, 2017,08:58:52 in PHP Scripts
---
---




OFFPoster is a Facebook Offer Poster Tools that allows you to create, schedule & repost four kinds of offer (Percentage Discount, Cash Discount, Free, Bogo) with three types post (Image, Video, Carousel) for your Facebook pages. It's a first application that can Create Offer post similar as Facebook Offer Ads.

You can start your own business and can sell OFFPoster services to your users ! It's a Multi-user SaaS application. PayPal and Stripe are integrated for getting payment from users. In regular license we are allowing 300 users and in extended license there is no limit.


How Are Your Facebook Offers Claimed?
Facebook makes it really easy for people to claim your Offer. Once your Offer starts running, all someone has to do is click on the "Get Offer" link to claim it. They'll then get an email (sent to the email they use to log-in to Facebook) with details on how to redeem the Offer.
If you're an online business and added a link, the user will be redirected to your website.
If your business is an actual store, people can either print out the Offer email or bring it in or they can simply bring their cell phone with them and show you the Offer on their phone.
PayPal & Stripe Payment Integrated
Live Demo
URL:
https://offposter.com/demo/
Login as Admin
Username:
admin@gmail.com
Password: 123456
Feel free to create your own demo account if you are willing to test this app with your facebook account. Other users will not be able to login to your account. You can unlink your facebook account after testing.
Server Requirements & Installation
PHP v5.4 / v5.5 /v5.6 / v7 & MySQL v5.x
Make sure curl is enbaled , mbstring is enabled, set_time_out is enabled , safe_mode is off, open_base_dir has no value, allow_url_fopen=1 and mysqli support is on.
Make sure Apache server's mod rewrite is enabled.
See installation video in video manual section below.
[Note: If you get "404 page not found" error then make
AllowOverride
in your virtual host.]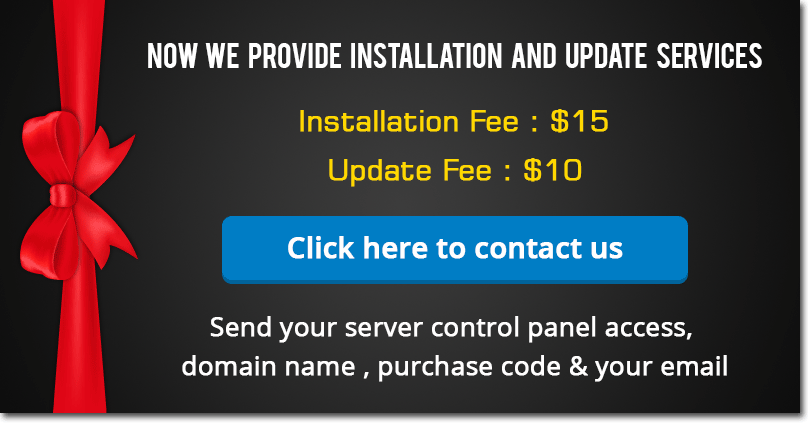 Video Manual
Support
Our team is ready to solve your problem as soon as possible. We are using support ticket system for easy management of client issues. Feel free to open tickets to our support desk. When you create a ticket, please provide your envato username & purchase code.

Documentation
Want to know more about OFFPoster? Please read our
Documentation

Share This Product
Possibly related products