Featured Products
---
WordPress Tooltips Ultimate
WordPress Tooltips Ultimate
By : codemine Published on Monday, September 04, 2017,09:24:39 in WordPress Plugins
---
---

Create a tooltip using the WordPress editor
Add tooltips inside your page or post content on-the-fly by using our WYSIWYG button on the tinyMCE editor.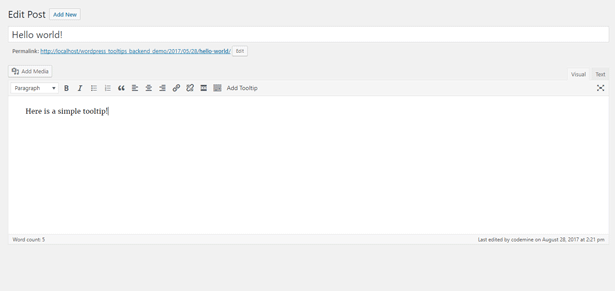 Create a tooltip using the Live Tooltip feature
Add tooltips anywhere on your site on-the-fly by using our Live Tooltip button on the WordPress toolbar. And by anywhere, we mean anywhere, on menus, wiigets, images, forms (gravity forms, contact forms 7, etc.), you name it! You can add tooltips even at the backend administration panel!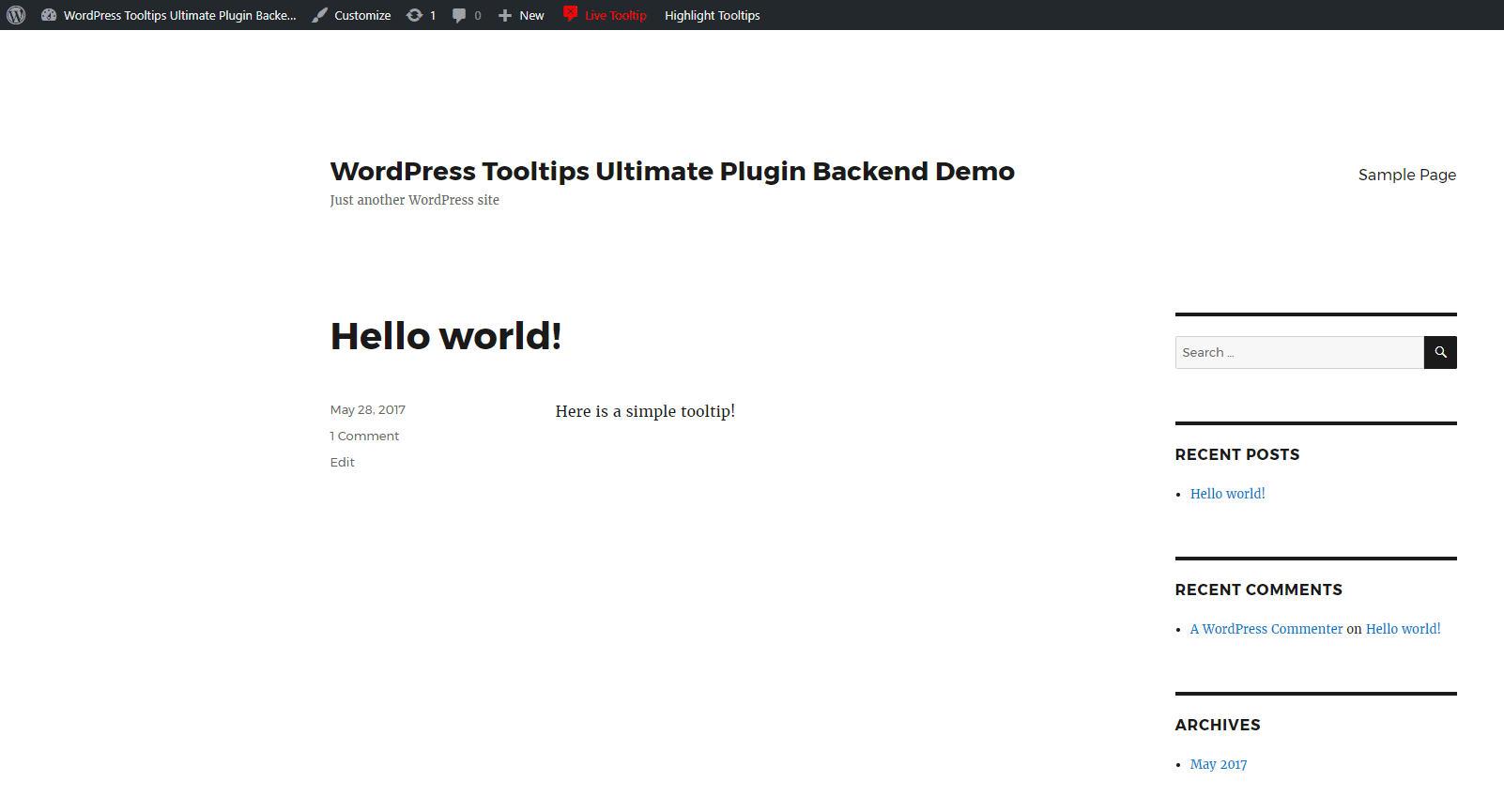 What Can You Do With Tooltips?
Tooltips can still make for a really nice addition to websites for a number of reasons:
Make your site
more reader-friendly
As always, the less text you put on the main interface of your site, the better. If you can tuck away a tip that visitors may not want or need, you can keep your site free and clear of any potentially intrusive text. Â Â Â Â
Guide your visitors
to take action
If you've ever felt the need to have more control over getting visitors to take action, tooltips can give you an extra layer of guidance without having to add another call-to-action into your site's design.
Cut down
on unnecessary back-and-forth
While your site's design should already be intuitive, there may be some spots that trip up visitors. Rather than leave them feeling frustrated, confused, or needing to reach out to you for clarification, tooltips can be a built-in guide to your website.
Full Feature List
Tooltip styling options. Style the tooltip the way you want! Choose background color, borders, margin, padding options.
Tooltip arrow options. Style the tooltip's arrow easily. Choose width and height, or even hide it.
Tooltip anchor options. You can even style the tooltip's anchor. Set the anchor cursor selecting between a number of cursors. Or change it's font, background color or padding.
Interaction options. Show and hide the tooltip the way you want. You have 2 showing options (on hover or on click) and 3 hiding options (on hover out, on clicking anchor or on clicking elsewhere).
Animation options. Multiple showing and hiding animations. Set the animation type, the time and even a delay if exists.
Google fonts. Select from a large library of Google fonts and set the desired typography.
Multiple tooltip position options. top left, top center, top right, center left, center center, center right, bottom left, bottom center, bottom right
Multiple arrow position options. top left, top center, top right, center left, center center, center right, bottom left, bottom center, bottom right
Ready-to-use themes. Choose between 22 ready-to-use themes and make cool tooltips on the fly!
Image tooltips.
Image & text tooltips.
Modal tooltips.
Video tooltips. Add videos from YouTube or Vimeo to show inside your tooltip window.
Google map tooltips. Add google maps to show inside your tooltip window.
HTML tooltips.
Unique styles. 3 unique styles, comic 1, comic 2 & sharp.
Frontend post content tooltips. Add tooltips to your post content easily throught the WordPress TinyMCE editor.
Frontend out-of-post tooltips. By using our Live Tooltip feature, you can add tooltips everywhere: menu, widgets, footer, icons, you name it!
Backend tooltips. You can also add tooltips to the WordPress backend.
Highlight tooltips. Want to see what tooltips a page has? You can highlight the active tooltips of the current page easily by clicking a button.
Demo live preview
Visit our
demo live preview
to see over 100 examples of WordPress Tooltips Ultimate in action!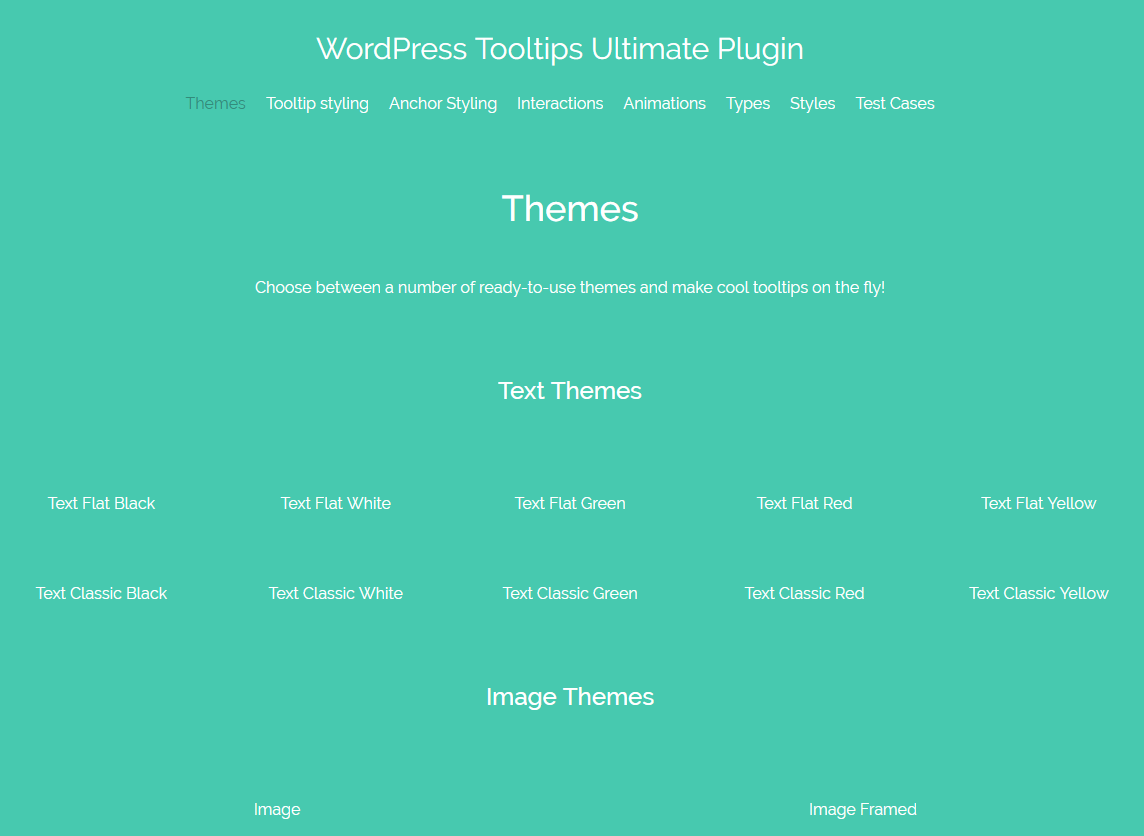 Demo backend live preview
Try it before you buy it! Just visit our
demo backend live preview
and see all the amazing features in action. You can login at the WordPress backend using: username:
demo
password:
demo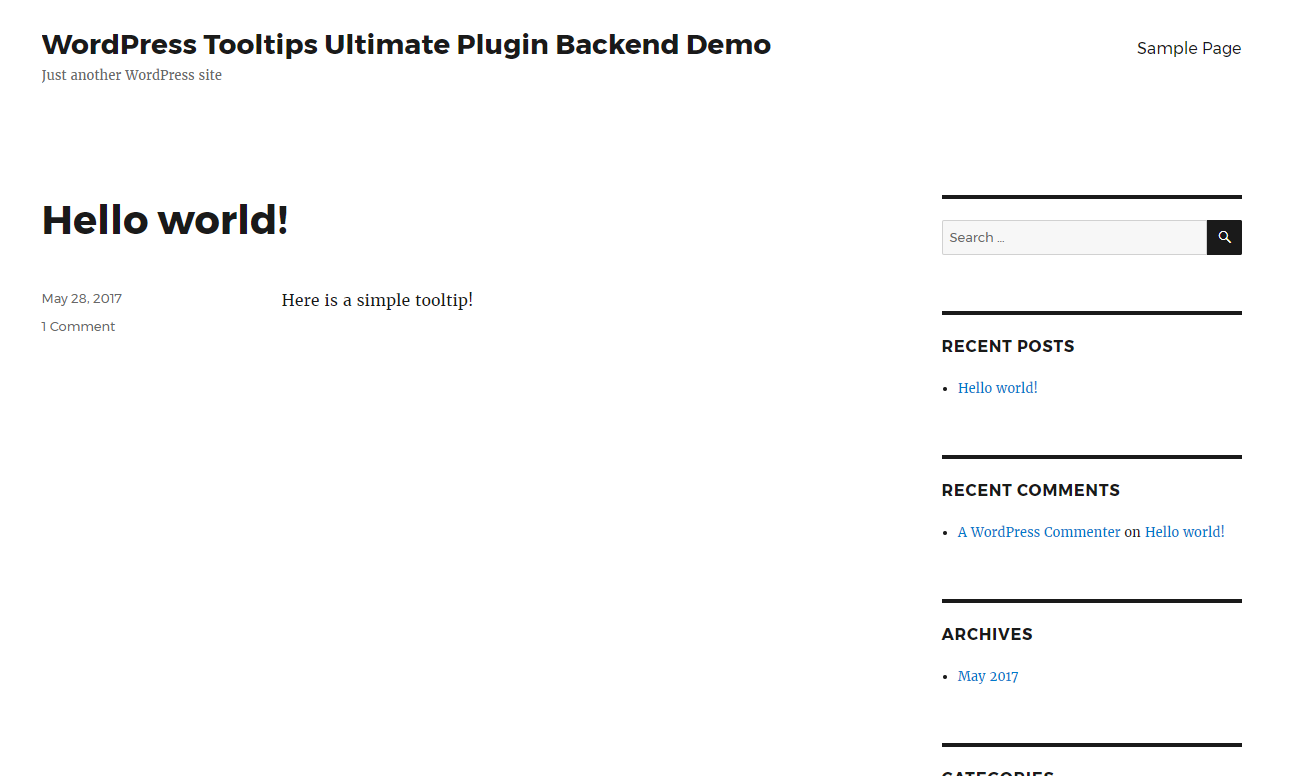 Documentation
Take a look at our extensive
online documentation
.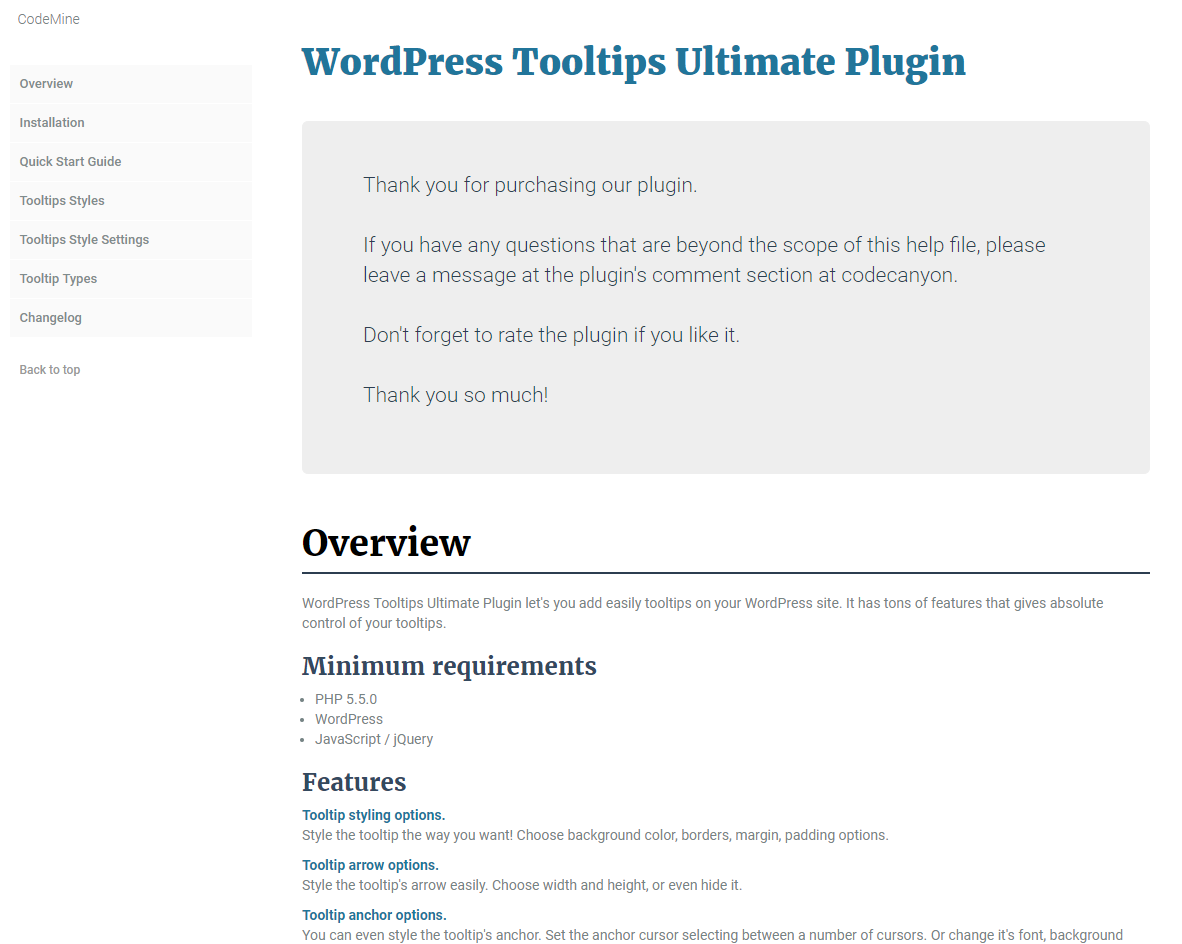 Support & development
We provide fast and reliable support to our customers. You can count on us for after sale support and continued development of the plugin.
Changelog

= 04.09.2017 version 1.0 =  
* Initial release

Share This Product
Possibly related products