Featured Products
---
Slider Hero WordPress Slider Plugin and Intro Maker
Slider Hero WordPress Slider Plugin and Intro Maker
By : quantumcloud Published on Wednesday, January 10, 2018,11:22:46 in WordPress Plugins
---
---

Slider Hero is a Unique WordPress Slider Plugin Unlike Any Others
Build memorable and unique home page or landing page slider in a matter of minutes with almost zero learning curve and endless fun! Slider Hero is not just your typical image slider. It uses amazing HTML5, CSS3, and JavaScript animation effects (
80+ completely unique and Built-In effects to choose from
) as your eye-catching, attention-grabbing background. All you need to do is add your messages to slide on top.
Create Cinematic and Futuristic Intro Adverts with Slider Hero
For the first time, you can create stunning Intros like "Apple – iPhone 7 and iPhone 7 Plus in 107 seconds" OR "Introducing Pixel, Phone by Google" advert with music or audio loops and minimal effort from an intuitive UI without complex timelines. Build cinematic Intro for your products or services that will not be soon forgotten with the Slider Hero Intro Builder.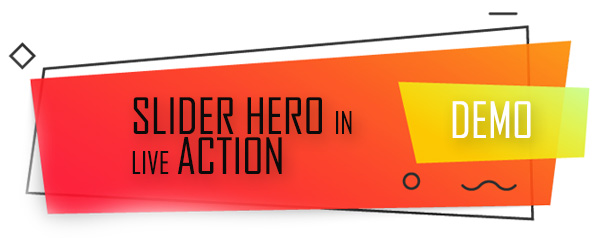 Check Out a Couple of Sample Intros Created with Slider Hero Unique Intro Builder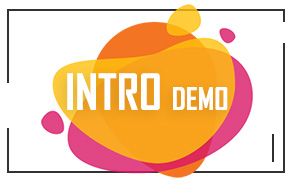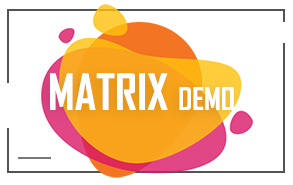 *Demo Slider Configurations are available for
free download
on specific demo page.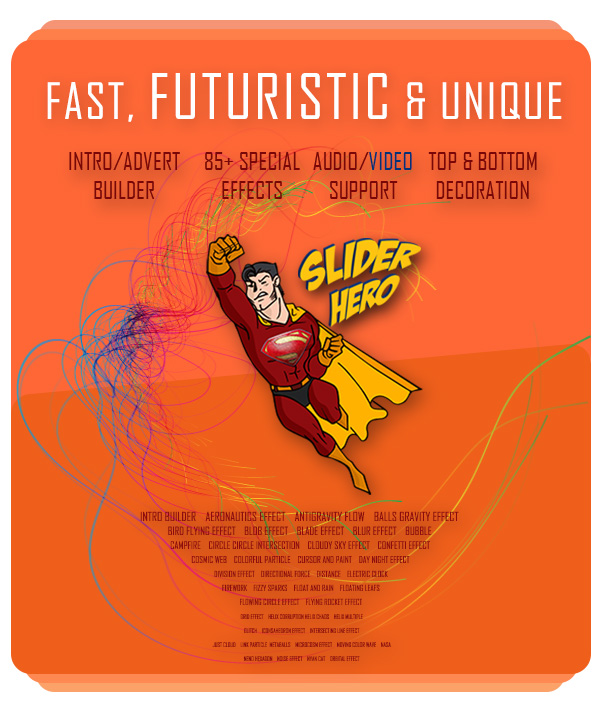 How Slider Hero is DIFFERENT?
Image Sliders are bad for conversions and they cause
banner blindness
. They are boring and do not engage users. Eye tracking studies conducted by Neilson Norman Group found that as soon as visitors perceived something to be an advertisement they turned their focus away from it. Image sliders divide your user's attention. Images on sliders represent different products or offers in the span of a few seconds. Your website user has hardly read a single thing when whoosh…the image changes and they have to refocus their attention. Slider Hero is different. This WordPress Slider plugin focuses on your core messages, uses a background animation of your choice to keep the user
interested and focused
. The unique Call to Action buttons lead the users where they really need to be. The other unique feature that Slider Hero provides is the
Intro Advert builder
. Introduce your products and services with a dramatic flair. Slider Hero typographic intro builder allows you to do something very unique. You can create stunning product introduction sliders like stunning Intros like "Apple – iPhone 7 and iPhone 7 Plus in 107 seconds" with chained animation and small snippets of texts combined with background audio of your choice.

Create Cinematic Product or Service Intro with Slider Hero
Introduce your products and services with a dramatic flair. Slider Hero typographic intro builder allows you to do something very unique. You can create stunning product introduction sliders like stunning Intros like "Apple – iPhone 7 and iPhone 7 Plus in 107 seconds" with chained animation and small snippets of texts combined with background audio of your choice.
Each text snippet can be assigned different
text animation effect, animation delay, colors, backgrounds, font
etc. Upload a music loop and voila – instant awesomeness. You can use Intro sliders for your splash page, coming soon page, product launch, and landing pages. What happens at the end of your epic Intro?
Redirect visitors to a new page or load a regular slide with call to action buttons
! Create unforgettable user experiences with Slider Hero Intro Builder – Unleash your inner movie director.
Create Stunning Sliders and Text Carousels Like a Pro
Slider Hero takes all the messy work out of your slider creation process. Create awesome, futuristic sliders with just the click of a few buttons. Select an Effect->Create a few slides with title and descriptions->Copy shortcode to your page and you are done! Change the animation effect instantly from a handy dropdown list any time for different occasions or when you feel like experimenting. The minimalist, intuitive and user-friendly interface lays out all the options and effects in a single page – easily accessible and in formats that just makes sense. Nothing overwhelming but nothing is missing either!
Required: Zero complex layers or timeline managementRequired: Zero coding knowledgeRequired: Zero hair pullingResult: Simple awesomeness
.
80+ Never Before Seen Background Animation Effects
One of the defining unique features of Slider Hero is its never before seen background animation effects. You start your slider by choosing an effect and build from there. To that end, we have included 80+ unique and exotic animation effects to choose from. From particle effects to exotic Ygekpg Effect. Star Trek Warp Speed or Matrix – we got you covered. We plan to add a lot more effects in the coming days.

CURRENTLY AVAILABLE EFFECTS IN SLIDER HERO:
Intro Effect, Aeronautics Effect, Antigravity Flow, Balls Gravity Effect, Bird Flying Effect, Blob Effect, Blade Effect, Blur Effect, Bubble, Campfire, Circle Intersection, Cloudy Sky Effect, Confetti Effect, Cosmic Web, Colorful Particle, Cursor And Paint, Day Night Effect, Division Effect, Directional Force, Distance, Electric Clock, Firework, Fizzy Sparks, Float and Rain, Floating Leafs, Flowing Circle Effect, Flying Rocket Effect, Grid Effect, Helix Corruption, Helix Chaos, Helix Multiple, Glitch, Iconsahedron Effect, Intersecting Line Effect, Just Cloud, Link Particle, Liquid Landscape, Matrix Effect, Metaballs, Microcosm Effect, Moving Color, Wave, NASA, Neno, Hexagon, Noise Effect, Nyan Cat, Orbital Effect, Particle Effect, Particle Helix, Particle System, Hacker, Physics Bug, Racing Particles, Rain Effect, Rainy Season, Rays and Particles, Play or Work? Rain Of Line, Rising and falling cubes, Shape Animation, Space Elevator, Christmas Snow Effect, Squidematics, Stars Effect, Stellar Cloud, Subvisual, Tag Canvas, The Great Attractor, Thibaut, Tiny Galaxy Effect, Torus of Cubes, Water Effect, Wave Effect, Wave Animation Effect, Waaave Canvas, Walking Background, Star Trek Warp Speed, Water Swimming, Waving Cloth, Water Droplet, Wormhole Effect, Word Cloud, Valentine Effect, Ygekpg Effect
More coming soon…
Other Unique, Wonderful and Useful Features
Add uniquely designed and animated Call to Action Buttons with each slide. Square or Rounded, With or Without Borders – customize every aspect. Choose from 10 custom effects.
Experiment. Change the primary background animation effect from a Drop down list any time for different occasions or when you feel like experimenting.
173 Mind Blowing Gradient Backgrounds to Select from for the minimalists out there. You will love them.
Add unique separator or divider design at the top and bottom of your sliders. Decorate your sliders with slope, rounded, triangle, arrow, cloud or half circle patterns. This is a Slider Hero exclusive feature not to be found with any other Sliders.
Animation and Audio
Slider Hero provides enough animation options keep your slides interesting. Combine the flexibility of animate.css with the power of letterfx to create unlimited, unique text animations for your titles and descriptions. Apply In and Out effects for Call to actions buttons along with unique Hover animation effects. There is never dull moment when you create slideshows with Slider Hero.
Add background music to match the tone of your Slider. Upload audio track or music loops with options for different control positions and loop count to match your slider perfectly. Users can turn sound on and off.
Different controls and navigation positions with customization options. Supports dot navigation, arrow navigation or floating arrow navigation. Slider Hero also provides Pause/Play slide option and Restart slider option! Allow your users to pause and play slides. A must have feature for your Cinematic Intro sliders!
Special Discount for Theme Developers
If you are a themeforest or other theme developer and want to use Slider Hero pro with your theme – we are interested in cooperating with you.
Contact us
for any question or feedback you might have.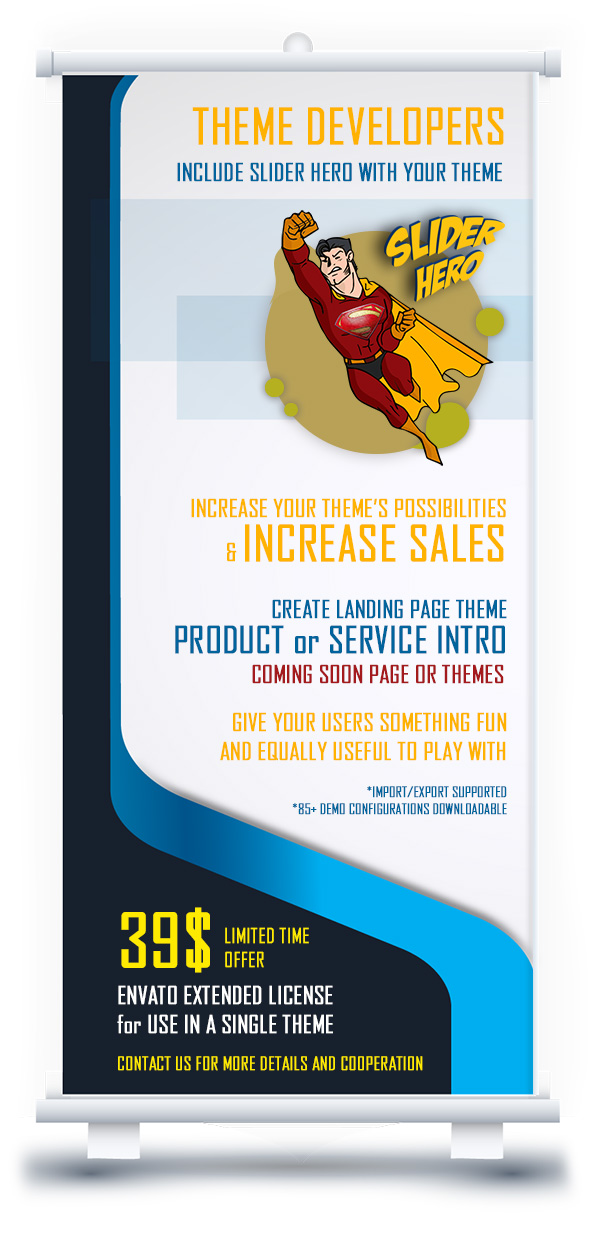 Slider Hero Pro Main Features at a Glance
Unique, Cinematic Intro Advert Slider Builder
Create Unlimited Cinematic Intro Advert Easily which was never possible before
Simple, Effective and Intuitive Interface
Define text, Font color, Letter Spacing, Font Weight
Select from 800+ Google Fonts
Live Font Preview
Flexible Intro Builder with Dynamic Slide delay, Text Animation Type (50+ effects)
Upload Image as Slide Background or Select a Color
Redirect to New Page After Intro Ends with Custom Delay
Load Regular Slider with Call to Action Buttons After Intro Ends with Custom Delay
11 Background Animation to Choose from (more coming soon)
Modern Sliders and Text Carousels with Special Background Effects
Create Unlimited Modern Sliders and Text Carousels with Stunning, Never Before Seen Background Animations
Choose from 80+ Wonderfully Refreshing and Unique Background Animation Effects
Switch Between Effects Instantly
Reposition Title, Description and Buttons Easily
800+ Google Fonts with Live Font Preview
Choose from 173 Professionally Created Gradient or Upload an Image as Background
Call to Action Buttons
Add One or Two Call to Action Buttons with Each Slide
Square or Rounded Shape
With or Without Borders
Choose from 10 Custom Button Animations.
Customize Button Fonts with Colors, Letter Spacing and More
Text Animation
Standard Animate CSS Text In and Out Effects
Letter FX Effects to Animate Your Letters
Combine Animate CSS and Letter FX for Unique Text Effects of Your Own
20 Custom, Exotic Text Animation Effects for Title and Descriptions
Audio Support
Add Background Music to Match the Tone of Your Intro Adverts and Sliders.
Choose The Audio Controller Position
Users Can Turn Sound On and Off
Select if Audio Should Loop Indefinitely or Stop After Repeating a Few Times
Unique Slider Decoration
Add Unique Decoration for Top and Bottom Parts of Your Sliders
Choose from Slope, Rounded, Triangle, Arrow, Cloud or Half Circle Patterns
Stand Out from the Crowd
General Options
Hero, Carousel and Standard Slider Features
Responsive Sliders
Unlimited Sliders on a Page
Drag & Drop Slide Position
Unpublish Slide/s
Quick and Easy Building of Slider WITHOUT Any Layer or Timeline
Copy Slider
Auto Slide On or Off
Repeat Slider On or Off
Random Slide
Background Animation Canvas Opacity
Preview Your Sliders While Creating and Save Time
Slider Navigation and Controls
Arrow Navigation with Custom Colored Arrow Icons
Special Floating Navigation Arrows
Dot Navigation
Pause and Start Slider
Restart Slider
Preloader
Turn Preloader on or Off
Upload Your Own Preloader Image or Animated Gif
Import Export Slider
Export Your Sliders and Import in Another Website Easily
Export/Import Your Carefully Crafted Intro or Adverts
Full Width and Full Screen Slider
Slider Hero Supports Full Width Layout Slider
Stretch Your Slider Full Screen and Full Height
Upcoming Feature
Slider Hero is created for you! If you have any feedback or feature request, let us know in comments. We read every comments and feedback and take every suggestions and bug report seriously.
Why Slider Hero?
Developed by a company with 15+ years of experience. You can rely on us
Always up to date and under active development for new features
Extensive documentation
Easy and Flawless Setup
Fully Responsive, Mobile device friendly sliders
Simple, Yet Powerful Options
Unique Features
Quick, Reliable, No-nonsense and Friendly One-on-One Support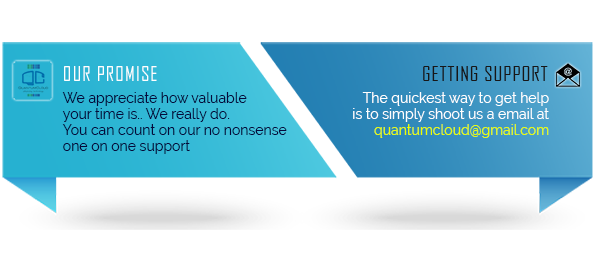 Version History

Version 3.6.0 – released on Jan 15 – 2018
 Minor bug fixes and HTML special character support in Title
Version 3.5.0 – released on Jan 10 – 2018
 Inception


Share This Product
Possibly related products